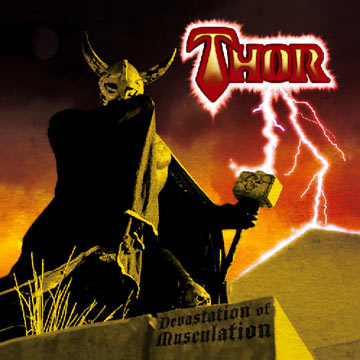 DEVASTATION OF MUSCULATION
is upon us!
Thor has just completed his new CD entitled "Devastation Of Musculation", which was released by Smog Veil Records in July 2006. ORDER YOURS HERE

THOR says, "This is my darkest and most powerful album I've ever recorded."

Co-produced and co-written by amazing axe man Mike Kischnick(Empyria,Severed Serenity,Deadblow Hammer) the album promises to deliver some very heavy riffs and Anthemic tunes. Thor belts out the tunes with thunderous vocals and Kischnick electrifies on guitar. A very emotional song "Tale Of The Wolf-Warriors Of The Universe" was penned by Thor, Kischnick and Eric Kurz.

The album took 5 months and 500 hours to record, mix and master. It was recorded at Iron Works Studios in Kelowna, BC.

CHECK OUT THE PROMO VIDEO ON YOUTUBE.COM

New videos and bonus tracks from the album will be available on the new Smog Veil Site.