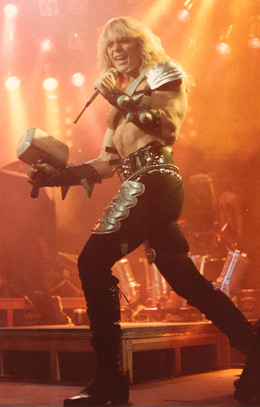 THOR to HEADLINE MUSKELROCK 2011
in Sweden June 2-4
Jon Mikl Thor will be heading to Sweden on his golden chariot ...to Alvesta, specifically...to give you another great Rock performance in THOR's history.

He will play LIVE at the MUSKELROCK FESTIVAL 2011 June 2-4 in Tyrolen, Alvesta, Sweden.

Also, the THOR FILM FESTIVAL will give a European World Premiere of the new astounding movie by John Fasano, Jon Mikl Thor and John Cody Fasano called "THOR-A ROCK OPERA".
A few people who got a quick look at post production said "It was the most unique and amazing visual performance they've ever seen".

Also showing will be a follow-up to AN-THOR-LOGY called THOR-RIDE FROM HELL.

Also a new album will be released for MUSKELROCK by THOR called -THOR-KING OF MUSCLEROCK"

More to be announced soon!!!
--------------------------

History will be made in Sweden. Hail THOR!!!

Hail MUSKELROCK 2011!!