>> THOR produces Snowboard.com compilation CD - NOW AVAILABLE!
THOR and Snowboard.com have put together a compilation CD which features tracks by THOR, Bewitched, Baamphf!, Damien Storm, and other great bands. Check out the full track listing and order your copy here.

Artist Mike Hoffman created the image below to help promote the Snowboard.com CD. Thanks, Mike!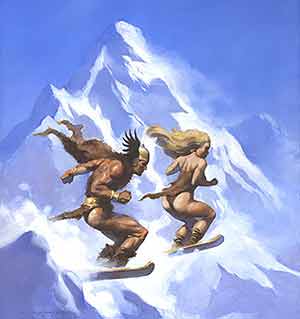 >> THOR stars in upcoming movie, GraveYard
THOR will be starring in and writing and recording music for the new movie, GraveYard. The movie starts shooting in
January, 2003. Ed Brisson will be directing the picture which features THOR as the boss of a haunted hotel. A new single has been written by FUBAR Is A Super Rocker writers THOR and Johnny Hatch. The single Walking in a Graveyard will be recorded in Los Angeles with a new video being shot in Vancouver. A new special vinyl album is expected to be released along with the movie. Details once the contracts are all officially signed.Check out info @ FizzFilms.com. Fizz Films may also be shooting a new THOR video for the upcoming Snowboard.com release. We will keep you posted.

>> THOR documentary film! Thunder On The Tundra
Ryan Wise and his crew Al, Nick from Blue Lame 61 Productions followed THOR on his recent tour through North America for the upcoming documentary, Thunder On The Tundra. Some amazing filming took place and interviews with many great people, including Cherry Bomb and other important folks from THOR's past. No release date has been set yet, but we'll keep you posted.

>> TRIUMPHANT CD re-release!
THOR's new Triumphant album will be released soon in the USA through Crash Records. Amazing reviews from Germany, Sweden Canada and the USA have been done. We will be posting some of them ASAP.

>> New THOR vinyl LPs to be released soon!
THOR will be releasing 3 albums on vinyl, yes LP's with Outlaw Recordings in New York City. The first will be a full length Picture Disc of previously lost material, unreleased material. There will be incredible artwork by Mike
Hoffman. For more info contact outlawrecordings@hotmail.com