>> Vows Of Valhalla!! THOR to wed fans in Edmonton, Canada!

------ For Immediate Release - from the management team at ThorToen Records ------
Announcing: ROCK STAR THOR TO PERFORM HISTORIC WEDDING CEREMONY!

Thor has done it again.
Multi-dimensional entertainer, entrepreneur and Renaissance man,
Jon-Mikl Thor now to wed two fans from Edmonton, Canada!
That's right - THOR will seal the marriage vows between
John Hartman and Jessie Wagner, who will wed May 18th in Edmonton, Alberta.
He is the first rocker in Canada to produce a concept video, one of the first to experiment with
editing movies digitally, the only rock star to win both Mr. USA and Mr. Canada,
the world's first Muscle and Music entertainer, certainly the first rock performer to bend steel bars
for 20+ years....and now will be one of the first rock stars to perform a wedding ceremony!
The wedding will be far from typical, complete with spectacular lasers and pyrotechnics.
THOR will be clad in full Viking attire for this fantastic and beautiful marriage.
In addition to presiding over the nuptial vows, THOR will perform "Fubar Is A Super Rocker",
(from last spring's Canadian indie movie hit, FUBAR!) with the wedding band.

Thor will arrive in Edmonton on Friday May 16th to rehearse and to meet with press,
music industry executives, selected music retailers, and appearances on radio and TV.

The reception will be on May 17th with the wedding on May 18th.

KEEP CHECKING WWW.THORCENTRAL.COM FOR A FULL REPORT W/ PHOTOS!

See how Straight.com reported the news by clicking here.

For additional information contact:
Michael Hektoen
ThorToen Records
Telephone: 604-988-3282
Email: thortoenrecords@shaw.ca
-------------------------------------------------------------------------------------------------------------------------------------------------

>> THOR teams up with Canadian Punk Legends, DOA, for Are U Ready !

Available NOW! - Order Direct from THORCENTRAL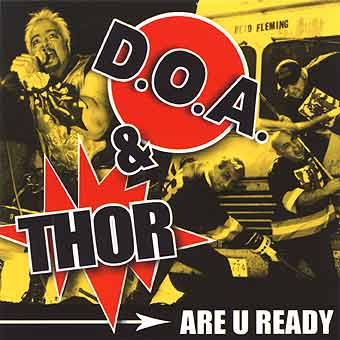 Legendary punk pioneers D.O.A. and legendary metal artist THOR have teamed up to release a 12 song CD entitled Are U Ready. The songs are all about sports, power, glory and mayhem. Leading off this dynamic union of roaring rock is the D.O.A. track Are U Ready. The powerhouse Vancouver Canucks have been playing the tune at home games to rev up the crowd and the team, and this powerful CD has been released in time for the drive to the Stanley Cup.
Are U Ready has also been adopted as the theme song in the restoration of the memory of the Vancouver Millionaires (Stanley Cup Champions 1915).
This CD is a co-release on Canada's punk godfather Joey Shithead Keithley's Sudden Death Records and THOR's record label ThorToen. It is distributed by Vancouver's Scratch Records.
On this CD THOR crushes everything in his path. He has only gotten stronger with the passage of time; this is evidenced by power anthems like Call of the Triumphant, Gladiator Stomp and The Challenge. THORS music is bruising, infectious and guaranteed to get U Ready. For diehard THOR fans: You'll be glad to know that most THOR songs on this release are newly recorded versions that have been unreleased until now!
D.O.A. is well known for its place in mixing rock and hockey. D.O.A. could be considered the originators of puck rock, starting with their great hockey video for Taking Care of Business. D.O.A. also roughs you up with songs like Dead Men Tell No Tales, Beat 'Em Bust 'Em and I Am Canadian. It is a non stop parade to the penalty box.

Get yours today at THORCENTRAL for only $12 postage paid in the USA!
($15 ppd for orders outside the USA)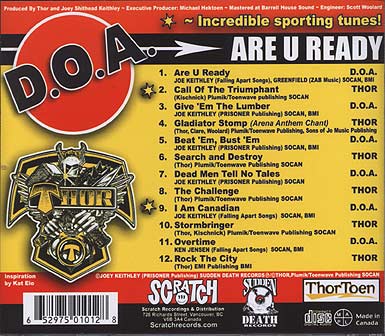 -------------------------------------------------------------------------------------------------------------------------------------------------
>> Other THOR releases which will be available soon:

----- Triumphant Re-issue CD -----
There has been some delay in getting the new CD pressed & shipped, but word is that it will be here very soon.
Includes tracks from THOR's initial release of Triumphant, which sold out quickly, plus a new song by Seth from Anal Cunt with THOR himself. You won't want to miss out on it...so stay tuned for more info!

----- Outlaw Recordings in NYC/THOR Vinyl Releases -----
This summer should see the release of some very cool THOR 12" vinyl LP releases from Outlaw Recordings
in NYC. Not sure if they will be picture disks, or regular vinyl LPs, but we do know that the packaging will be superb.
Can't reveal what THOR songs will be on them just yet, but we've heard that these will be ready in June!

----- THOR DVD Releases -----
We should also see the release of two long-awaited DVDs this year. The first is THOR's classic 80's movie, Rock 'n Roll Nightmare. The other is a 2 DVD set featuring rare vintage THOR concert footage, videos, interviews, etc.

KEEP CHECKING THIS SITE FOR THE LATEST INFO ON ALL OF THESE PROJECTS!