>> New CD: TRIUMPHANT - Available for sale now!
Thor's new full-length CD is finally available! 12 new tracks of metal glory, including music from FUBAR: The Movie. This is THOR's most powerful release to date. The opening track, Call Of The Triumphant, is my personal favorite. Great production, classic THOR themes, and riffs that stand up to THOR's classic releases.

TRACK LISTING:
1. Call Of The Triumphant
2. Intercessor (from the motion picture "The Intercessor: Rock n' Roll Nightmare 2")
3. Viking's Funeral
4. Back For Blood
5. Fubar Is A Super Rocker (from the motion picture "Fubar: The Movie")
6. Everybody Needs A Hero
7. Anger
8. Stormbringer (Pilotpriest Mix)
9. ThunderHawk
10. Fight For You
11. Hail Steeve Reeves
12. The Guardian's Flame (inspired by Mike Hoffman)
(3 secret bonus tracks are hidden at the end of track 12: We Accept The Challenge, Lightning Strikes (new version?) and Search & Destroy)

This CD was released with two different covers: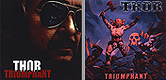 shown above: RIGHT: Thor Photo Cover (standard release), LEFT: Limited edition cover featuring artwork by Mike Hoffman.

Order your copy of Triumphant now!

Triumphant should be available in Canadian stores by August 10, 2002. If it's not there, ask the store to order it from www.phdcanada.com.

Read a glowing review of Triumphant on Metal-Rules.com!

For the official Triumphant press release (PDF file) click here.

>> Latest Tour Info
Live dates planned for September and into October. The first leg of the tour focuses on key spots in Canada, and will probably mean that US cities such as Boston, Detroit, Buffalo, Raleigh, New York, Conneticut, and Orlando will be added for the 2nd leg of the tour. THOR hasn't performed on the East Coast of the US since 1998, so we're ready for him! Bring the thunder!

Here are some tentative dates and cities for the Canadian leg of the tour. US dates will likely follow after the initial Canadian dates. (For Canadian live booking, please contact james@courageartists.com):

CANADIAN TOUR 2002:

SEPTEMBER
12 Kelowna
13 Calgary
14 Edmonton
15 Red Deer or Lethbridge
16 Saskatoon
17 Regina
18 Brandon
19 Winnipeg
20 Thunder Bay
21 Sault St. Marie
22 Sudbury
24 Ottawa
25 Fredericton
26 Moncton
27 Halifax
28 St. John
30 Montreal

OCTOBER
1 Quebec City
2 Sherbrooke
3 Kingston
4 Oshawa
5 Toronto
6 Hamilton
7 St. Catherines
8 London
9 Windsor
Cities and Dates subject to change
We'll keep you posted as we find out more.
>> FUBAR is A Super Rocker video
The Fubar Is A Super Rocker added to Much Music's playlist! THOR's video, from FUBAR: The Movie, is now being broadcast on televisions throughout Canada. Here is the playlist as of July 27th:

Down: 'Ghosts Along The Mississipi'
Meshuggah: 'Transfixion'
Sparta: 'Cut Your Ribbon'
Blindside: 'King Of The Closet'
Melvins: 'Hooch'
Fu Manchu: 'Evil Eye'
Thor: 'Fubar Is A Super Rocker'
Fear Factory: 'Linchpin'
Taproot: 'Again & Again'
Cannibal Corpse: 'Devoured By Vermin'
Voivod: 'The Tower'

Take it from me - the FUBAR video rocks, and showcases THOR's great sense of humor. See THOR play golf, plunge into a swimming pool in full costume, chase the neighborhood dogs, and hang out with stars of FUBAR. I may have peed my pants several times while viewing it.

Canadian fans are urged to request Fubar Is A Super Rocker to help THOR in his quest for world domination! Just visit MuchMusic online today and send them your requests. Let's get THOR the TV exposure he deserves!
www.muchmusic.com/feedback
www.goingcoastal@muchmusic.com
>> Special Appearances
• THOR and artist Mike Hoffman at San Diego ComicCon - AUG. 3rd & 4th
Comic artist Mike Hoffman and THOR signed autographs at Comic Con in San Diego to promote new Triumphant CD, as well as Mike's Thor as "The Guardian" posters.

THOR and Mike appeared at the Amryl Entertainment booth, and showed new and archival THOR videos, including the US premiere of Fubar Is A Super Rocker. THOR was in full costume and performed strength feats for the fans.

THOR also met up with a few friends while at the ComicCon. Lou Ferrigno, aka The Hulk, and the Rock Warrior discussed the old days when they competed for Mr. Teenage America in New York and Mr. Universe in Switzerland. Lou told Thor that Pumping Iron (starring Lou Ferrigno And Arnold Shwarzenneger) will be re-released and that he will be appearing in the new Hulk movie. Lou and THOR's meeting was captured on video, and the two were interviewed by Frank Meyer (of The Street Walkin Cheetahs fame, and editor of KNAC.com in Los Angeles). THOR was also very happy to meet his old pal, Stewart Moralez, who once lived in the same NYC building with THOR in the 80's. Stu helped spread the word back in those days by playing THOR on the NYC University radio station.. THOR was extremely excited to see Stu after all those years, and proud that Stu is now head of sales at WIZARD. Stu actually had an mp3 of Keep The Dogs Away on his cell phone! Ahh, technology!

Over 60,000 fans went through the convention center. THOR dressed in his battle gear and stomped around the convention center while getting into confrontations with other monsters and warriors on the show floor. He also met
the female warrior, DARRKRAVEN. (www.darrkraven.com)

Thor put on a powerful show bending steel and performing the new song, Call Of The Triumphant.
• THOR on Much Music/Canada:
George Stroumboulopoulos, well-known celebrity host on Canada's Much Music music television station, has confirmed that THOR will be a guest on the Much Loud show in September. We'll keep you posted on the air date.
SITE UPDATES as of 8/5/02:

>> New site design!

As you may have noticed, we're totally redesigning this site. I've been handling THOR's fan mail and merchandising for years now, and I've always wanted a site that would be updated regularly with latest news info. Well, after trying a few designers/hosts that didn't quite meet our expectations, I've finally learned how to create Web sites, and I'll be able to update this one very regularly. You'll notice that all the pages haven't been fully updated/completed, and still use the previous site design for the most part. Don't worry...I'll get to it. I want to get it done ASAP, so please be patient while I complete the re-design. I have tons of stuff to add, including photos and artwork that fans have sent over the past couple years. Be sure to check out the audio/video downloads page (more to come soon!).

>> New Catalog Items

Brand new buttons added for 2002! I've added 2 brand new THOR pinback button designs to the catalog. New designs include the THOR shield logo, and a photo from THOR's Only The Strong photo shoot from 1984. Visit the THOR Store to see the new designs.

We should also have THOR's 2002 Tour T-shirts available for sale here soon, as well as some vintage designs which will be made later this year. Stay tuned!

>> Fantastic Vintage THOR photos by Brian Rademacher

Brian Rademacher
, a THOR fan from way back in the late 70's/early 80's, has recently contacted us and provided some incredible documentation of THOR's early career. See some of them on the LIVE and CANDID sections of our Photo Archives page.

Brian literally has hundreds of shots featuring THOR live in concert, backstage, etc. He was very nice to allow us to post his photos on this site, and he is even willing to sell very affordable prints to THOR fans.

3.5" x 5" photos are only $2.00 each, and 8" x 10" photos are only $7.00 each.

Go here to get more info on how to buy your own copies.