THOR: A ROCK ODYSSEY Live in NYC!
*** MAY 14th, 2016 - NYC - Highland Ballroom ***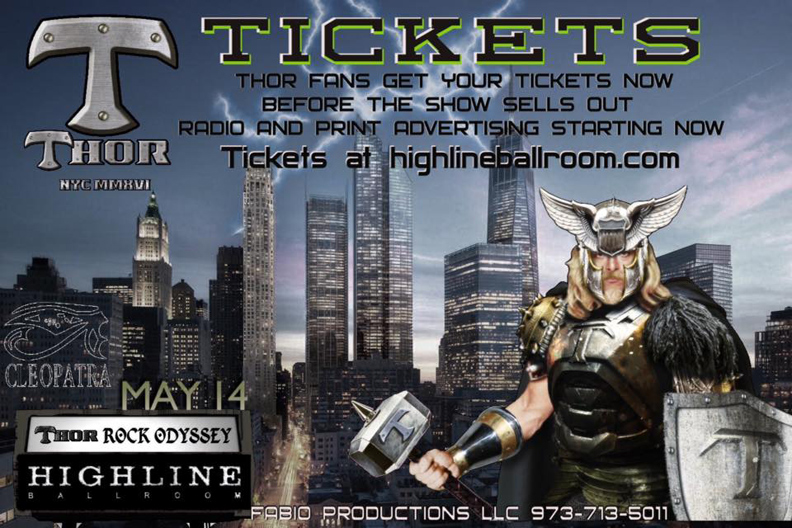 Thor A Rock Odyssey is not just a rock concert; it will break open a new dimension in Rock Entertainment.

Thor will not only perform his debut album, Keep the Dogs Away in its entirety, he will also perform thunderous fan favorites including but not limited to Thunder on the Tundra, Warriors of the Universe, and Ride of the Chariots with his mighty band in a three part theatrical show about his musical career and his conquests as a champion bodybuilder.

A full cast of characters, heroes, villains, strongmen, and rock oddities from all walks come together to perform in this larger than life rock drama, Thor A Rock Odyssey.

FREE VIP MEET & GREET plus SHOW PROGRAM
for those fans who purchase tickets before April 30th, 2016 --- Purchase Tix Here

Additional charge for Meet & Greet after April 30th
Meet & Greet from 6pm-7pm only

6:00 PM Live interview with Thor, and his band Thor's Warriors of the Universe; Chris Totaro, Scott Jackson, Paul LaPlaca, Jack Frost, and Rick Fabio. Several guest musicians are scheduled to perform: long time drummer Mike Favata and bassist Keith Zazzi, guitar legend Frank Soda, James Whang from Unchained, and Brian Kotzenek from the Epoxies. Meet and greet will be available to prepaid ticket holders. Thor will take fans through a museum tour of his trophies and rare rock memorabilia. Museum closes at 7:45.

6:30 - Watch Thor's award winning documentary "I Am THOR". Autographed copies will be for sale at the show.

8:00 - Keep the Dogs Away: Thor performs 1977 debut album "Keep the Dogs Away" live for the first time in honor of the Deadline/Cleopatra Records special packaging reissue of the CD and Vinyl album release on May 13. Autographed CDs and vinyl will be available in limited quantity at the show.

8:40 - Battle For New York: "Heal" sung by Chris Totaro, "New York Energy City" sung by Lauren Fabio, and "Mushroom World" sung by Thor. TITANO Strongman will perform strength feats and sword swallowing, followed by a gladiator battle to save New York City.

9:00 - THOR POWER SET. Thor will bring down the house with his greatest hits.

visit Highlineballroom.com for tickets (direct link)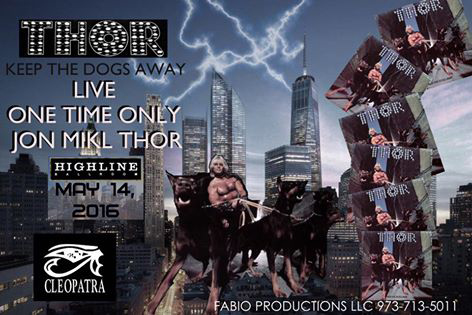 For additional information contact Fabio Productions LLC 973-713-5011 rfabio@optonline.net
For THOR interviews, press pass, photographers, requests
contact Fabio Productions LLC 973-713-5011
Rfabio@optonline.net