•
N

•

E
•
W
•
S
•


Circa 2004 - 2009


JANUARY 2009 NEWS UPDATE:
THOR

's Debut Album
On CD For The 1st Time!


------------------------------------------




KEEP THE DOGS

AWAY


30th Anniversary Edition

CD




-----------------------------------------------




Includes 16-page booklet + Bonus Tracks!




-----------------------------------------------




$18 pp

d

in the USA




$22 ppd

for orders outside USA



Email To Purchase: mpilmer@earthlink.net

SEE BACK COVER/TRACK LIST

SEE CD
SEPTEMBER 2008 NEWS UPDATE:
THOR interview in METAL HAMMER magazine


Summer 2008 issue - UK





"The Super Hero of the Heavy Metal Underworld..."



MORE INFO HERE
JUNE 2008 NEWS UPDATE:
THOR "LIVE IN DETROIT - 1985"


Finally released on CD!





13 Songs including 3 BONUS TRACKS & color booklet



ORDER HERE
MARCH 2008 NEWS UPDATE:
THOR T-shirt featured in short film


"Heavy Metal Zombies"



MORE INFO HERE
JANUARY 2008 NEWS UPDATE:
THOR TOUR 2007 REPORT NOW ONLINE!




See Photos and video from his "Into The Noise" promo tour.



SEE IT HERE
DECEMBER 2007 NEWS UPDATE:
NEW THOR CD Available Now!





INTO THE NOISE


--------------------------------


12 New Studio Tracks. THOR teams up with his old friend Steve Price!



ORDER HERE
2006 NEWS ARCHIVES:
The THOR 2006 Tour Report is now online!




Devastation of Musculation across the USA & Canada




See amazing full color photos of all the action, behind the scenes,
and in the front row on tour with THOR!

Thanks to everyone who supported THOR and the tour,
and especially to all the fans we met at the shows.



CLICK HERE TO SEE IT ALL
THOR interviewed by SuicideGirls.com - August 2006




Read the latest chat with THOR - Interviewed by Daniel Robert Epstein of SuicideGirls.com.

READ IT HERE
THOR and ZOLAR-X Announce Live Tour for 2006!




Behold the partnership of 2 legendary bands from the Glam Rock era, promising the fantastic theatrics and showmanship which both entities have been known for since the 1970's.

Get more info.
DEVASTATION OF MUSCULATION is upon us!

THOR has just completed a new cd entitled "Devastation Of Musculation", which was released by Smog Veil Records in July 2006 followed by a live tour.

THOR says, "This is my darkest and most powerful album I've ever recorded."

MORE INFO HERE - ORDER YOURS NOW
Rock 'n' Roll Nightmare

to be released on DVD - June 27th, 2006!




Synapse Films will release THOR's classic 80's horror movie, Rock n' Roll Nightmare, on DVD
this summer on June 27th. See the Synapse Films Web Site for more info.

PREVIOUS NEWS REPORTED IN 2005 and earlier: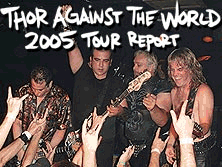 -----------------------------------------------------



SEE FULL SHOW REPORT
from THOR's live performance at The Knitting Factory
Hollywood, CA - April 26th, 2005


COMING ON JULY 12th:



New 11-track skull-crusher of classic power metal/glam from The Rock Warrior, including the feature track from 'Creepies 2' and the USA Networks film, 'Murder at the Presidio'. Produced by the Messiaz (Nekro, Wayne Kramer, Sylvain Sylvain), this marks a return to form that earned THOR a Top-100 Frontmen honor bestowed by Classic Rock Magazine. Expect a Fall 2005 tour and a VH1 appearance to be announced soon. Artwork by Mark Dancey.

"Thor flew into town and put on one of the most outrageous shows I've ever seen." -Kerrang!

COMING ON JULY 12th:



The definitive DVD retrospective of THOR's early years. MTV-style videos, rare TV appearances (including a Merv Griffin Show '76 feature), and live clips. Includes all the classics: 'Keep The Dogs Away,' 'Anger,' and 'Thunder on the Tundra' and 20 more power metal/glam blasts. DVD is housed in an amray case with 4-color 2-sided insert.

"Thor, the original rock warrior, has returned to walk among his people and safeguard his dominion. Since his emergence in 1977 with Keep the Dogs Away, he has had countless imitators -- girlie-men musicians who thought a few well-placed chest plates and a foam ax or two could mask their puny physiques and poofy lineage -- but none was Thor." -SF Weekly
ONLY THE STRONG LP seen at San Diego Science Center

As reported by Mike Cole, THOR fan from Tucson, AZ:

Just another example of how THOR is dominating the Universe in obvious and subtle ways..

My wife & kids came back from a vacation in San Diego and reported that the "Only the Strong" album (red vinyl) is featured in a science exhibit at the 'Reuben H.Fleet SCIENCE CENTER'. In the Exhibit you can look through a microscope into the grooves of this historic disc. Imagine the tens of thousands of unsuspecting souls gazing deep within the caverns of ROCK! ...and imagine what they see!!!


NEW THOR DVD COMING SOON ON SMOG VEIL RECORDS!



- DVD TITLED "ANTHORLOGY" -


One of the most incredible and amazingly visual exploits of the most powerful and enduring rock performer in history!
Concert footage, behind the scenes footage - Wild, Unusual, and Out Of This World ROCK MAYHEM!!


MORE INFO COMING SOON

THOR signs multi-media deal with SMOG VEIL RECORDS

Breaking News!

THOR has just signed a major multi-media contract
with the fast-rising label, Smog Veil Records (SV Records)

A new album, Thor Against The World has already been recorded,
and should be unleashed very soon. This is Rock the way Rock SHOULD
be tapping into and channeling the very heart & soul of the genre! It's
extremely catchy and addictive, with a timeless quality that will make it just
as fresh decades from now as it will be on its release.

A video has already been shot for the song: Glimmer (which will
include scenes from the upcoming movie, Murder in the Presidio
which will air on the USA Network on April 29, and features Thor).

Watch for a tour to be announced soon in support of this stellar album!

Besides the release of Thor Against the World (release date has not yet been set),
there is also a DVD in the works that will chronicle the Thor history.

For more information, keep checking www.thorcentral.com and www.smogveil.com

Track listing for
THOR AGAINST THE WORLD

1. Thor Against The World
2. Creature Feature
3. Easy Woman
4. Serpents Kiss
5. Glimmer
6. Gonna Have A Hard Time
7. Hard To Cry
8. Megaton Man
9. Turn To Blue
10. The Coming of Thor

THOR in

Murder At The Presidio -

AIRING ON USA NETWORK

MAY 2nd , 2005- 9pm


Shot in Victoria, BC in Canada, and directed by John Fasano. THOR appears in the project with Lou Diamond Philips.

THOR also performs the song Glimmer from the upcoming
new cd. There was also a recent shoot for a spetacular
new THOR video directed by John Fasano.

Thor works together again with super director/writer John Fasano (Another 48 hours, Universal Soldier, Alien 3)

Jon Thor and John Fasano had incredible success with Rock n' Roll Nightmare which they worked on together in the 80's.

SEE THE WORLD PREMIERE OF THIS MOVIE
AND THOR LIVE IN CONCERT
APRIL 26th, 2005 - Knitting Factory - Los Angeles, CA

Click thumbnails at right for full versions of photos
from the set of the movie & video.

THOR quoted in The PUMP Energy Food Book

THOR has been quoted in the new bestseller book, The Pump Energy Food Book", published by New York's Hyperion Books. Written by Steve & Elena Kapalonis, who own the very successful chain of heathly food restaurants called The Pump (in NYC). The Pump helped sponsor THOR's 2002
Tour Of Triumph concerts.

"When I visit New York to do a concert or appearance I always enjoy The Pump's mouthwatering food to get me ready. I know that my blood sugar will remain at a normal level....the body gets plenty of protein, vitamins and minerals, and I have energy to burn. Thank you, Steve and Elena, for creating the Pump. It is an inspiration for people of all ages."

JON MIKL THOR Mr. Canada, Mr. USA - Actor/Musician

SEE PHOTOS FROM THE BOOK RELEASE PARTY


THOR sponsors Street Hockey Team

THOR recentyly sponsored a hockey team,
The Vancouver Millionaires, at the Canadian
Street Hockey Championships in early October.

Click thumbnails to the right for larger images.

3 NEW THOR INTERVIEWS:
•
THOR Interview -
BY FRANK MEYER
•
THOR Interview -
T
HE CUTTING EDGE
•
THOR Interview -
BY CROWGRRL

THOR secures new worldwide merchandise distribution with Chaser Merchandising

THOR fans can now order two new T-shirt designs manufactured by Chaser Merchandising in Los Angeles, CA (www.chasershirts.com). Chaser also represents artists like The Rolling Stones, Dead Kennedys, Velvet Revolver, AC/DC, and many more.

The shirts feature full color, high quality screen-printed graphics from THOR's classic LPs, Keep The Dogs Away (1978) & Unchained (1983), and are just part of a new batch of THOR items made possible because of this new worldwide distribution deal.

THORCENTRAL will have these in stock by Sept. 21st, so order now!

Email THORCENTRAL to pre-order (Please indicate size preference)

$20 each for orders in USA.
$25 each for orders in all other countries.

THOR mentioned in SPIN MAGAZINE - Sept. 2004



THOR is mentioned in a recent interview with a band from Connecticut called The Parasprinter, who make reference to THOR's live performance at the Newtown Teen Center in Connecticut during his 2002 tour.

Found in the September, 2004 issue of SPIN magazine.

See a scan of the THOR mention here.

THOR voted as one of the top 100 Greatest Frontmen of All Time!

THOR was voted in the top 100 greatest frontmen of all time

in the July 2004 issue

UK's Classic Rock

Magazine - as polled by professional rock journalists.

Various countries are honoring their victors such as Scotland who herald Bon Scott and Rod Stewart.

Other greats and legends include England's Freddie Mercury,Ozzy and Robert Plant while the USA bosts Steven Tyler, Jon Bon Jovi, Courtney Love and Jim Morrison.

THOR was the only Canadian and placed #75


---
New Album In The Works -
THOR AGAINST THE WORLD
!
THOR will be recording a new album, entitled Thor Against The World, in Los Angeles this month.
Thor will be backed by LA three-piece SWEET JUSTICE, which features Frank Meyer (The Streetwalkin' Cheetahs,
Wayne Kramer, Cheetahs Chrome, Sylvain Sylvain) on guitar, Bruce Duff (ADZ, 45 Grave, Jeff Dahl) and Chris
Marwkood (ex Bellrays, Blare Bitch Project), whose debut album was recently released on Real O Mind Records.
Meyer and Duff make up the production team Messiaz, who have been producing everything from hip hop to hard rock
at their own ToneDuff Studios in Hollywood (Messiaz will be producing the debut studio album by Dead Boys founder
Cheetah Chrome later this year). Also scheduled to appear on the album are keyboardist Brian Kehew (Air, Moog
Cookbook) and punk queen Texas Terri on what promises to be a lean, mean, stripped down hard rock affair.
According to Michael Hektoen, President of ThorToen Records, "I am very excited to be working with
Frank Meyer and Bruce Duff. Their talent, experience and enthusiasm is going to make this CD Great".
MORE INFO HERE
---
THOR Radio Blitz!

Request the Thundergod on your local stations!


-------------------------------------------------------------------------------------------------


Freekshow Promotions is helping spread the word about our favorite Rock Warrior by putting
together a nationwide radio blitz. Check out their list of participating radio stations, find the
one in your local area, and call to request THOR's Siren's Calling or Skyland songs (to be featured
on his new THOR AGAINST THE WORLD release, which will be at most radio stations soon).

THANKS TO EVERYONE WHO HAS CALLED THEIR LOCAL STATIONS!
ACCORDING TO FMQB, THOR'S "BEASTWOMEN..." CD RELEASE IS NOW IN THE TOP 5!:


1)

UNEARTH
The Oncoming Storm
Metal Blade
(65)

2)

FUNERAL FOR A FRIEND
Casually Dressed…
Ferret Music
(49)

3)

TOMATOHEAD
Punch
GCG Records
(48)

4)

MAGNA-FI
Burn Out the Stars
Aezra Records
(32)

5)

THOR
Beastwomen From the Center of the Earth
ThorToen Records
(26)
---
THOR stars in online comic by Ed Brisson.


THOR 'Rock The City'

A four part comic set in the early days of THOR's career

A true story!

SEE IT HERE:
sob-story.com

---
NEW THOR movie in the works!

THOR is currently finishing up production on Dreams Of Laura — a new film featuring Thor, a gang of undead
weirdos and a cute little girl. This future Palm D'Or winner was filmed on location at an abandoned
bio-processing plant in Richmond.
---